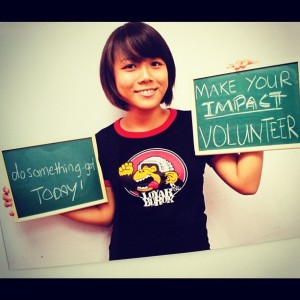 It was crunch time, it was chaos. The confirmed participants for this weekend's Makeweekend were far below targeted numbers, and the caterer and venue for the one taking place next weekend were still unconfirmed. And what about the press release for the Makeweekend that just took place a few days ago?
To work at Tandemic in the last quarter of 2012 was to feel the pressure that mounted every day – pressure that went beyond meeting targets, but also to leave a lasting impression on our audience. This was one of my favourite parts about working at Tandemic: meeting targets was not our sole focus, and the bigger picture was always in sight. With Makeweekend and Do Something Good, the projects that I mainly worked on, it was always about making an impact on a grassroots level.
As a kid fresh out of 'A' Levels, the opportunities, guidance and experience that Tandemic gave me were unexpected and absolutely invaluable – and for that I will always be grateful. But besides all of that, there is just something about Tandemic. It's not just the incessant social network jacking (yes, this does happen a LOT). I would attribute it to the energy that makes it conducive for such shameless violation of your online profiles. After all, these guiltless perpetrators and the ones who stand by and laugh along are the very ones who stand at hand to show me the ropes and bail me out when contingencies occur. They are friends and mentors, all at once.
So thank you, Tandemic, for those six months I spent with you. It was an amazing time.
Yap Jin Rui is currently pursuing her Bachelor's Degree in Engineering and hopes to combine her passion for the environment and sustainable living with her education in engineering to build environmentally friendly and sustainable infrastructure in the future. She likes dogs, collects wallets and nags at people to recycle. She reblogs photos of cute animals and funny cartoons at http://littleroundboxes.tumblr.com/ 
Interested in interning at Tandemic? Head on over to our Careers page and see how you can kickstart being awesome!