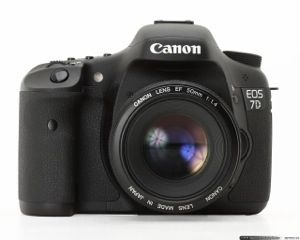 By Kal Joffres
Last week, I bought a professional camera and owned it for about three days. I learned some pretty surprising things about buying DSLRs in the process. If you're interested in buying a good camera, you'll probably want to read on.
I decided to buy another DSLR camera because the Makeweekend team was borrowing mine pretty often and I wanted to be able to use a camera. I found a good deal for a Canon 7D, which is supposed to be Canon's best camera with a crop-frame sensor, and I bought it.
1. A higher end camera doesn't mean better image quality
My last DSLR is a Canon 650D, which is an entry level camera and a far cry from the larger, more expensive, professional 7D.
So the 7D should produce higher quality images, right? Wrong. In fact, in my comparisons, I found that the 7D produced lower quality photos with more graininess (ISO noise) in low light conditions.
It turns out that Canon puts really high quality sensors in their entry level cameras. The 650D and the 7D have essentially the same sensor in them but the 650D is a newer generation of that sensor.
So what are you paying for when you pay for the professional crop-frame sensors? A tougher camera body, more autofocus points, more buttons (but generally the same number of functions), and the ability to shoot more photos per second. Doesn't seem like such a good deal after all, unless you're shooting something like sports.
2. Camera bodies are becoming "disposable"
Camera companies also produce "full frame" cameras, which are basically cameras with significantly larger sensors. These are found on some of the higher end professional cameras — and are considerably more expensive. While these sensors are probably the highest quality at any given time, sensor technology is improving fast enough that the next generation consumer camera will produce similar results as the last generation full frame sensor when it comes to things like low-light performance.
The camera body, it turns out, is improving fast enough that it probably makes more sense to regularly upgrade a consumer camera body than it does to buy a professional one.
It makes far more sense to invest big money on getting really good lenses than it does on buying a professional camera body. I sold the 7D three days later and bought a fast lens with image stabilisation, allowing me to take good photos even in very low light conditions without the graininess that typically comes from not having the very best camera body.
3. The bag is the unsung hero
One of the big problems with DSLRs is that they're bulky. I would have long bouts of not taking photos between going on vacations where I took thousands of photos. It seemed kind of silly — but the reason was simple: carrying a DSLR everywhere you go isn't convenient.
Along with the 7D, I bought a new camera bag that could fit my iPad. This made a huge difference in my camera usage. Suddenly, it became very convenient to carry around my camera and I've been using it so much more since.
A good camera bag might seem expensive, but what's the point in buying a great camera if you never have it on you? Get a camera bag that carries your camera as well as your work.