"Good morning!"
I loved hearing that every morning at work. It was a sign of a close-knit office environment where co-workers value each other. Amidst the occasional chaos involving a series of tweet-jack and Facebook-rapes and the insane amount of coffee my co-workers consumed, my two-month internship with Tandemic was nothing short of a great experience.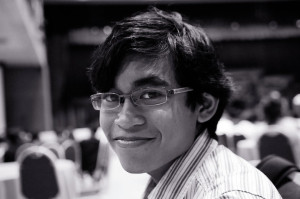 Two months, I believe, was too short a time to find out my purpose in the company. I wavered between designing graphics, editing videos and contributing write-ups. As a Journalism major, perhaps this wasn't my place. But nonetheless, I felt Tandemic a spectacular place to be. I've read about Google's awesome work environment and Tandemic would pretty much mirror it, apart from the absence of a gym.
My co-workers were a handful of insane fun, filled with random and hilarious conversations. Were it not for my personal policy, I would have tweeted the random quotes that frequently floated the office. As much fun as they were, when it came to work – Nothing less but awesome results was expected. And in all instances, nothing less was delivered.
In my two-months with Tandemic, I never had the chance to join a 'Makeweekend', a company brainchild project to empower youths through design thinking. Sadly, even after I left, thanks to a crammed semester, I didn't have the opportunity to join the one held in UiTM Shah Alam either. But I was proud nonetheless. Happy that I was part of a company whose vision is to bring society closer and just make things work better by showing people that they can with their own hands.
I would never forget the day my boss, Kal dragged in several pieces of jackfruits into the office (which we never ate and were left to rot outside on the stairs). Or the immense pressure suffered for a week trying to perfect the script for a promotional video. A lesson well learned would be to never leave your devices lying around unattended and always log-out of your social networks, even if you'd be gone for a minute.
My momentum or personal self may personally not be suited for this industry. But if there's a place where I've felt like I was part of a family institution, where everyone mattered and where amidst the fun, we were all doing something worthwhile – It'd be Tandemic.
Aziff is currently pursuing a Bachelor's Degree in Journalism, and is talented not only with words but also with the camera. He blogs regularly at http://strangereyes.tumblr.com/ and regularly contributes opinion pieces to Free Malaysia Today. On Twitter, he is @aziff90
Interested in interning at Tandemic? Head on over to our Careers page and see how you can get involved!